ELISABETH TURGEON, SUPPLICANT
2013-01-31


To ask for something, means something is missing. Whoever wants to get what is missing must ask, pray, demand or beg. Were there things missing in the life of Elisabeth Turgeon? Yes, she had to implore for improvement in health, beseech the permission to pronounce vows and she even had to beg for food and firewood.
During her entire life she was frail, she could never participate in games with the youngsters of her age, could not follow a school year regularly. From 1863-1873, the years she taught were interspersed with periods of rest in her family. In Saint-Romuald-d'Etchemin, she nearly died twice. Towards 1873, she taught in Sainte-Anne-de-Beaupre; she was close to Good St. Anne and through her intercession, she prayed to be healed. She was granted remission and answered Bishop Jean Langevin's request to come to Rimouski and work towards the instruction of the youth of his diocese. She came to Rimouski in April 1875. Later, she was again afflicted with ill health; in March 1881, the doctor told her to prepare for death. She asked her sisters to pray and particularly to ask their students to pray for her. She accepted the will of God.
When she came to Rimouski it was to teach children but mostly she wanted to become a religious. She had dreamt of becoming a religious for a long time! She had requested Bishop Langevin for the permission to pronounce vows of religion. In 1875, she respectfully asked that she and her companions be allowed to wear a religious garb. The Bishop seemed to think that an institution of lay women could be founded, could accomplish the task of teaching and could continue as such. In the autumn of 1877 Elisabeth intervened more insistently; she would leave the association if it were not possible to pronounce vows. When an official request for sisters was made by the pastor of Saint-Donat, in 1879, for the mission of Saint-Gabriel, Elisabeth Turgeon saw the occasion for the Bishop to answer her plea. She firmly declared that there was no question of sending two of her daughters on mission for as long as it took for them to pronounce vows of religion. Finally Bishop Langevin announced to Elisabeth Turgeon that they could pronounce vows on September 12, 1879. She was overjoyed to share this precious news with her companions!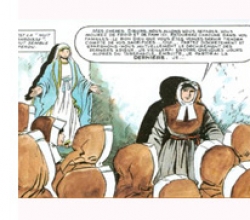 One night in February 1879, Elisabeth was overwhelmed in extreme agony. She went to the chapel and prayed alone for a long time. She then met with her companions and told them: "You are starving and freezing to death, return to your families. As for myself, I will be the last one to leave." Unanimously the sisters answered that they would not leave. Together they spent the night in the chapel, being fed by the Eucharistic Presence, and warmed by the Fire of Love. And life appeared in the hope of a new dawn. The dawn of Easter! The fragile institute found strength and solidity on a strong foundation. Wishing to continue their mission was a desire that led them on. Sr. Marie-Lucie went to her family and begged for food. The next day, she came back with potatoes, turnips, cabbage and lard. As for firewood, a few sisters took armfuls of wood from the Bishop's piles in his backyard... Together they prayed. Together they believed in a project of religious life that would nourish thousands of youth searching for KNOWLEDGE.

Today, it is a duty of veneration and gratitude for the daughters of Elisabeth Turgeon to beseech with insistence the beatification of their foundress. You who read this text on internet, we thank you to help in our request for this grace.

Rita Gallant, R.S.R.



Last page - 11 - 12 - 13 - 14 - 15 - 16 - 17 - 18 - 19 - 20 - Next page